The Story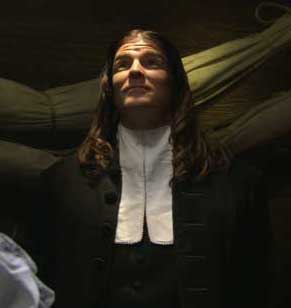 The year is 1732, a time of spiritual decline in England. The gulf between rich and poor is pronounced. Cheap methods of producing gin have created the 18th century's version of a crack epidemic among the lower classes.
Into this world steps a self-righteous young Anglican priest named John Wesley. Having grown up believing he had to earn his way into Heaven through good works, Wesley spent a great portion of his time visiting prisons, studying the Bible and praying — all to escape the fires of Hell himself.
His rigorous self-discipline attracts the attention of General Oglethorpe, who has just been appointed governor of the new colony of Georgia. Oglethorpe invites the young Wesley to serve as chaplain of the newly settled community of Savannah. Inspired by an encounter with a native American, John and his brother Charles travel to America with dreams of evangelizing the native peoples.
During the long journey to America, a terrible storm nearly sinks their ship, and Wesley's confidence in his own faith is shaken. He is astounded to see the small group of Moravian missionaries calmly singing during the storm, confident in their faith.
Upon reaching Georgia, he falls in love with the beautiful young Sophy, niece of the local magistrate. But Wesley has made a commitment not to marry, and their star-crossed love affair ends in bitterness and a lawsuit. Charles fairs no better as chaplain of Fort Frederica, when he is sent home early in disgrace.
When John returns to England bereft and depressed , he finds that his brother Charles has found the spiritual solace and peace that Wesley's heart is so desperately lacking. Through the friendship of a young Moravian missionary, John finally finds "heart religion," the manifestation of grace that he has been searching for.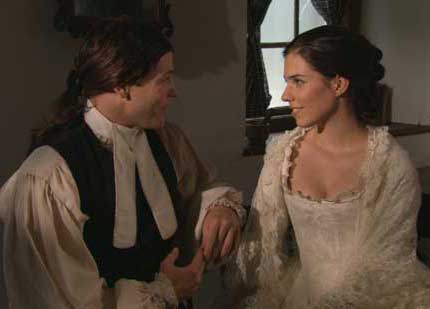 With renewed energy and deep faith, Wesley begins a revolutionary movement that will ultimately transform the face of England and the fledgling country across the Atlantic. Under his leadership, the first shelters for battered women are begun, the poor of England are empowered and transformed by saving faith, prison reforms are started, and the anti-slavery movement begins. Across the former colonies, Methodist lay preachers on horseback reach the remotest frontier settlements with the message of the Gospel.
This true story, filled with adventure and challenge, is one that is a natural for the silver screen. It has a bit of the swashbuckling energy of Master and Commander and some of the bittersweet romance of Sense and Sensibility – and it is a film that conveys a powerful message pertinent to our times.
Randall Davidson, Archbishop of Canterbury, wrote that "John Wesley transformed the outlook and even the character of the English nation."